I currently live in Meridian and truly enjoy the quality of living the community provides. From the antique stores to the dining experiences, Meridian offers services not seen in alternate communities. Meridian is centrally located between Boise and Nampa and makes commute times to work, school or play a breeze.
There are obviously numerous options to consider when looking into Meridian Idaho Real Estate. Where do you work? Where to you shop? Where would you like your children (if any) to attend school? Meridian boundaries do encompass a substantial area and deciding on where you want to land is important prior to looking at Meridian homes for sale.
Meridian Idaho Real Estate
Like most cities and towns within Idaho, there are certain subdivisions or communities that will maintain values more so than others. Below you will find my personal favorites:
Some popular subdivisions in Meridian are:
Lochsa Falls

Kelly Creek

Tuscany

Observation Pointe

Bear Creek

Paramount

Saguaro Canyon
Meridian Homes For Sale
On any given day there are approximately 600-800 Meridian homes for sale. The area unemployment rate and local economy drive the current inventory of available homes within Meridian. By using the Meridian Idaho Home Search, Meridian homes for sale can be viewed using the interactive mapping feature or by searching using the specific criteria needed (square footage, bedrooms, bathrooms, lot size and listing status).
There are typically anywhere from 300 -1000 available Meridian homes for sale at any one time.  This, of course, depends on the supply vs demand that is driven by the local economy and unemployment rate.  To see the available homes, you can click on our Meridian Idaho home search where you can search by map and by your specific criteria.  You can also search by square footage, bedrooms, bathrooms, lot size acreage and also by the listing status.  Looking for Meridian short sales or foreclosures / bank owned MLS listings? www.TrustIdaho.com contains a particular search function that allows the user to search specifically for Meridian distressed property.
Meridian Short Sales and Foreclosures
It is essential to develop a plan when searching specifically for Meridian short sales or Meridian bank owned homes for sale. Below you will find a brief explanation of the necessary steps to take: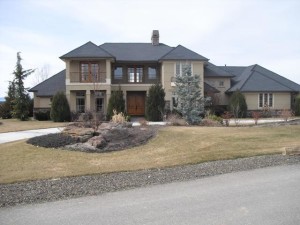 Step1Visit an experienced mortgage lender (unless you will be paying "cash" for the home).  A pre-approval letter or pre-qualification letter is required by the seller of a Meridian short sale or Meridian bank owned property when submitting an offer to purchase so that your credit worthiness can be verified.

Step 2 Determine where you would like to live and what amenities are essential to you and your families needs. Being an experienced Meridian Idaho Real Estate professional, I can help with this decision making process and will also locate homes that match the amenities that you desire. The real estate services provided to homebuyers in the State of Idaho when searching and locating Meridian homes for sale do no require up front payment—the seller of the home you purchase will compensate Trust Realty and myself for representing your interests during the home purchase. Representation is essential in order to ensure that the home buying process is completed thoroughly. I can be contacted day or night and would love to have the opportunity to help you begin the Meridian home search process.
Step 3 Request to be set up on a listing notification. A listing notification system is designed to notify you via email when Meridian Idaho homes for sale that match your certain home search criteria come onto the market or have recently had a price adjustment. Homes that are in good shape and priced competitively obtain offers very quickly—even in a "down" market. The notification system enables you to be the first to know about new listings and provides you a much higher probability of locating the most suitable home for your needs before alternate buyers have an opportunity to view. Contact me today to get the notification system enabled!
Meridian City Resources
Meridian is a great city to live, work, and play.  Here are some of the resources you might need when you are buying in the Meridian real estate market.
It is an honor to represent your interests when purchasing a Meridian home or when selling the home that is currently owned.  Contact me at 208-869-3469 or visit Trust Realty's interactive Meridian home search tool right now!