Mortgage rates move to another to record low!
Creating a target for those wanting to refinance their homes or purchase, the average 30-year fixed rate mortgage fell to the lowest level since mortgage rates have been tracked.  Can rates even get any lower? Well, you can find out more at MMC's website. Gosh, it's like "free" money to borrow.
On Thursday the 3rd of February, the average 30 year fixed rate mortgage hit 3.87%–down nearly .20% from the week before.  This is under the previous record set at 3.88% 14 days ago.
15 year fixed rate mortgages continue to be appealing at 3.14% which is also a record low for this type of financing option.
The 10-year Treasury note is an indicator of mortgage rates and fell to 1.9% this week.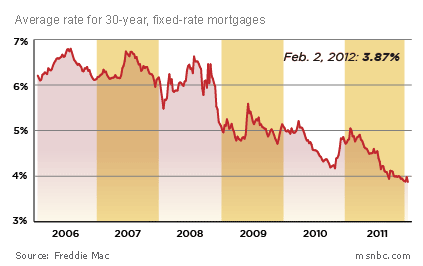 Low mortgage rates have most certainly contributed to the slight improvement in the housing market.  However, many homeowners remain underwater and unable to refinance into lower rates.  The pipeline of foreclosed upon homes continue to be substantial—placing unfavorable pressure on housing prices.  Also, the lackluster unemployment numbers and minimal wage increases continue to make it difficult for people to qualify for home loans or refinances.  Many are unwilling to place their hard earned money into a home that some fear could lose even more value over the next 3-5 years.
Sales of already built and previously occupied homes were dismal last year even though better than the previous; new home construction was the worst on record.  Low interest rates have had minimal impact on the construction of homes yet builders are hopeful that the record low rates along with consumer confidence may spur higher demand.
What's your opinion on the housing market for the year of 2012?  Me?  I'm hopeful and have been witnessing the current inventory "flying off of the shelves" which is a great indicator that our local market is in the midst of a rebound.
0
0
Matthew Le Baron
https://trustidaho.com/wp-content/uploads/2020/01/Picture10-300x115.png
Matthew Le Baron
2012-02-03 18:44:03
2020-10-01 00:45:32
Mortgage rates move to another to record low!